HUD Secretary Ben Carson visits Boise, talks affordable housing, 'win-win situations'…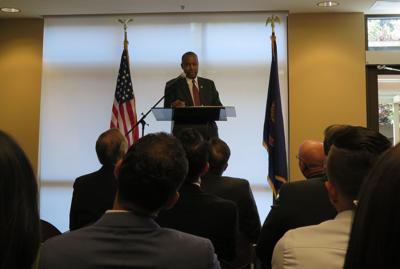 HUD Secretary Dr. Ben Carson is in Idaho today, touring the indieDwell modular home factory in Caldwell, speaking at the 12th River Street Senior Apartments in Boise, and discussing housing affordability with Sen. Mike Crapo, Idaho leaders including state Sen. Cherie Buckner-Webb, D-Boise, IHFA head Gerald Hunter, Caldwell Mayor Garrett Nancolas, and other public and private sector leaders on the affordable housing issue. Carson said his vision at HUD is to address the issue through public-private partnerships and new housing that blends in with its neighborhoods, not like the old high-rise public housing projects. "We also have to make sure that we aren't blocking those people from enjoying the American dream and climbing the ladder of economic success," he said. He noted that some current programs raise people's rent if they make more money. "Consequently, it kind of mires people in poverty and disincentivizes them," Carson said. "The things that we do, we have to do them all in a holistic manner … so that we can actually get the whole program running more smoothly."
"With cities like Boise leading the way, we're seeing partnerships forming in communities across the country," he said, "that help preserve existing housing stock but also increase the production of new homes. And we're encouraging and welcoming innovative housing in our neighborhoods."
Buckner-Webb spoke out about Idaho's problems with homelessness and housing affordability, declaring, "We are obligated to take action." Crapo, who chairs the Senate Banking Committee — which oversees housing and urban development programs — said he agreed with her call. "This is one of the biggest needs that we face in America right now, in terms of dealing with the less fortunate in our society," Crapo said.
Crapo told Carson, "This state loves you and loved you from the first time they got to see you on the national stage." Carson is a former GOP candidate for president.
Carson, speaking to a room full of housing advocates, local officials and others at the senior apartments in Boise, said, "This is America we're talking about. We're talking about the can-do society, not the what-can-you-do-for-me society."
"The challenges that remain ahead of us in terms of affordable housing, they're not going to be easy, but nothing worthwhile is ever easy," Carson said. "That's why we have these incredible brains that God gave us." Idaho Press reporter Emily Lowe has a full story here at idahopress.com(subscription required), or you can pick up Tuesday's Idaho Press.
Carson also had some choice words about the state of political discourse. "People need to recognize even though there are a lot of strange people in Washington," at which point he was interrupted by laughter, then continued, "we can do things that are reasonable."
"We believe in win-win situations," Carson said. "That's what we are in America. And there's really nothing that can stop us from being successful as long as we remain united. You know, not listen to the purveyors of hatred and division who want us to think we are each other's enemies, and who are rapidly succeeding at doing that. We all have a sphere of influence. We control what goes on in our sphere of influence. … We all have to be advocates that name-calling and 3rd grade tactics — no offense to the 3rd graders — but the fact of the matter is we're better than that, and we all share common commitment to this great nation, to its principles, to its people, and on behalf of HUD, I look forward to working with you to accomplish further great things in our nation."
Carson also had some choice words about the state of political discourse. "People need to recognize even though there are a lot of strange people in Washington," at which point he was interrupted by laughter, then continued, "we can do things that are reasonable."
"We believe in win-win situations," Carson said. "That's what we are in America. And there's really nothing that can stop us from being successful as long as we remain united. You know, not listen to the purveyors of hatred and division who want us to think we are each other's enemies, and who are rapidly succeeding at doing that. We all have a sphere of influence. We control what goes on in our sphere of influence. … We all have to be advocates that name-calling and 3rd grade tactics — no offense to the 3rd graders — but the fact of the matter is we're better than that, and we all share common commitment to this great nation, to its principles, to its people, and on behalf of HUD, I look forward to working with you to accomplish further great things in our nation."
Betsy Z. Russell is the Boise bureau chief and state capitol reporter for the Idaho Press and Adams Publishing Group. Follow her on Twitter at @BetsyZRussell