Interfaith Sanctuary, court officials team up to offer safety net in 'Failure to Appear' court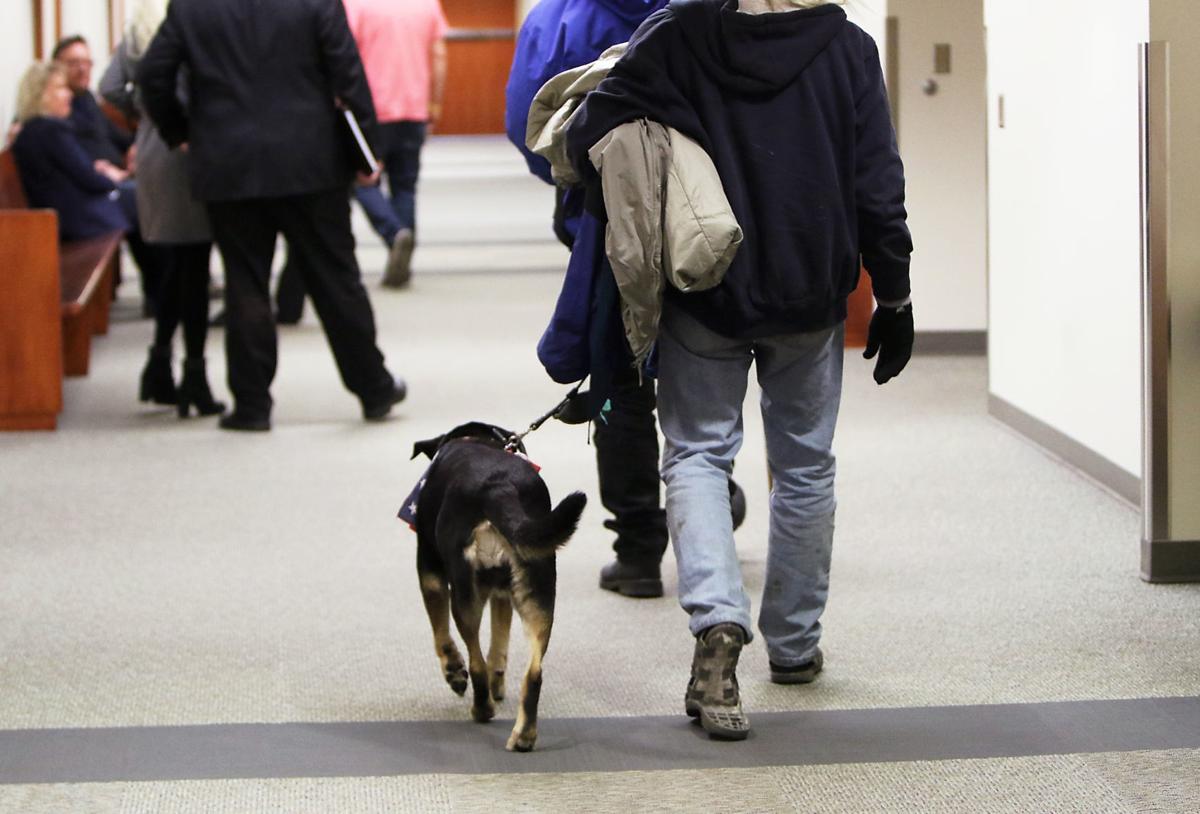 A group of people experiencing homelessness walk toward a courtroom at the Ada County Courthouse, Friday, Nov. 1, 2019.
Walton wasn't arrested, nor was a warrant issued for his arrest — but if he didn't get the matter resolved, he could have ended up in jail.
For many people, such a citation wouldn't be a problem. But Walton was experiencing homelessness at the time and is currently staying at Interfaith Sanctuary, an emergency shelter in Boise. On bad days, his medical conditions make it difficult for him to walk, and had he been ordered to pay a fine because of the citation, it's unlikely he could have afforded it.
Walton's situation isn't unusual in Boise. People who don't currently have a home may be cited for such things as holding an open beer or sleeping in public — "things you would be doing in your house if you had one," said Interfaith's director of programming, Luther Pugh.
If individuals don't appear in court, a warrant could be issued for their arrest — and that means they are booked into the Ada County Jail, where inmates sometimes sleep on the floor because there is no bed space for them.
To help alleviate those consequences for both the defendant and the city and county governments as a whole, Interfaith Sanctuary has worked with prosecutors, public defenders and Ada County Magistrate Court to set up a standing appointment at the court during which the shelter's guests can resolve legal matters. That happens Fridays at 1:15 p.m. at the Ada County Courthouse.
The special court time, known colloquially as "FTA court," started up on Oct. 1, although Interfaith Sanctuary had had a similar arrangement until that was paused in May. The court time is named after the failure-to-appear warrants the proceedings aim to prevent.
FTA Court is not just for homeless residents. It runs at 1:15 p.m. every weekday, presided over by Ada County Magistrate Judge Ransom Bailey, for anyone who has missed a court date. Interfaith Sanctuary's standing time slot on Fridays, though, provides a special chance to resolve cases for those experiencing homelessness and who have low-level, victimless criminal cases.
Settling those cases is important to people individually, but it's also important to the county as a whole.
Last year, more people were booked into Ada County Jail for missing court than for any other reason, according to Patrick Orr, spokesman for the Ada County Sheriff's Office. In 2018, 12.8% of all bookings had to do with failing to appear in court.
There were 5,311 failure-to-appear warrants issued that year. The charge continues to be a common one — there are currently 7,443 active failure-to-appear warrants in Ada County, according to Orr, although not all of those were issued this year.
In 2018, 73% of the people booked into jail on only a failure-to-appear warrant spent less than one day in jail.
Despite Interfaith Sanctuary's use of the standing court time, Bailey emphasizes everyone can use the court.
"It's an FTA court, and it's really to the benefit of all the citizens of Idaho," he said. "This is a mechanism for you to easily head off what might be a warrant issued for you."
In May 2018, Interfaith Sanctuary began to work with the Ada County Public Defender's Office and Boise's city prosecutors to help clients with open low-level criminal cases against them. Jodi Peterson-Stigers, Interfaith Sanctuary's executive director, said Magistrate Judge Daniel Steckel and then-public defender Susan Clark were instrumental in the process.
The plan was to address as many legal problems as possible in one sitting, so people could move forward without being hindered by an open arrest warrant or an unresolved criminal case. Once attorneys worked out details and paperwork with defendants, those defendants could go before a judge and have the matter handled officially.
"We did that for at least a year," said Steckel, who presided over the specialty court at that time. "For various reasons, we needed to stop it."
Among those reasons was the departure of Clark, who became a magistrate judge in Canyon County.
Another reason was decreased participation, said Pugh, who was involved in the first iteration. By May of this year, not as many people were using the services, perhaps due in part to the season. Pugh said staff at Interfaith Sanctuary decided to wait until October to start the practice once more.
"These are folks that just really have fallen out of the system," he said. "They weren't really getting out of the cycle."
The arrangement Interfaith Sanctuary has with the court system is once again in place, as of early October. Every Thursday, an attorney from the Ada County Public Defender's Office and a few law school students arrive at the shelter to talk with people about charges against them and fill out paperwork necessary to represent them. Then, each Friday, Pugh drives Interfaith Sanctuary's guests to the courthouse.
Transportation to the courthouse, simple as it may seem, is important for those experiencing homelessness — especially those who do not have a car or who live with medical complications, like Walton.
Interfaith Sanctuary and public defenders have been able to work out deals with prosecutors allowing guests to complete hours of public service at the shelter instead of paying fines. Walton, for instance, was ordered to complete eight hours of public service. In general, the practice means those who are without a home aren't obligated to meet a financial burden they might not be able to afford, which would result in further entanglement in the court system, Pugh said.
The goal in any given case is to address as many legal problems as possible, Bailey, the judge, said.
"When we get them (people) in court, we get as much done as we can," he said.
Pugh said he's even brought a few people with arrest warrants to court. They were afraid they would be arrested, he said, but that hasn't happened yet — instead, they were able to resolve the matter without going to jail. It's helpful to them and to Ada County Jail, which continues to feel growing pains as it operates at or near capacity on a daily basis.
"So far, it does appear to be a positive thing for everyone involved," Bailey said.
To read the story on-line (with credits and more pictures, CLICK HERE